To shop for parts: Click the tab marked SHOP near the top of any page to visit SV3Power.com/store/.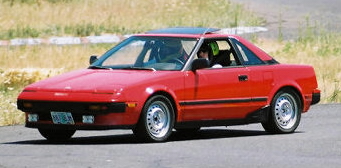 Here are most of the specs on the 7A-GE in my AW11, just to explain how my engine is built and answer some questions people often have about building a 7AG of their own.
The engine is a pretty typical 7A-GE in that it uses a 7A-FE bottom end with 4A-GE pistons and top end.  Swapping it into an MR2 was really pretty easy.  The cooling system changes in an MR2 are minimal compared to an AE86, and there are no electrical changes required, although exhaust can be a minor challenge due to the extra height of the block and the 7A-FE's two-piece (aluminum and steel) oil pan setup.
I built my 7A-GE for my '85 MR2, which was purchased with a partially disassembled engine due to broken rings on the #4 piston.  I wasn't sure how to proceed, but it would require at least rings and bearings to get running, so there would be some labor and cost involved no matter what. I also looked into 20V and 4AGZE swaps, but since I would have to pass a California smog test to even get the car in my name, I decided it should at least look stock and have all the emissions equipment attached and functional.  Building a 7A-GE was one way to get more power without attracting attention from the smog police, and it didn't cost much more than a basic 4A-GE rebuild.
Current engine specifications:
Block, crankshaft. flywheel, connecting rods, oil pump, timing belt tensioner: 1994 Geo Prizm 7A-FE
Cylinder head, valves, valve springs: 1985 Toyota MR2 (bigport 16V)
Pistons, rings, wristpins: '88-'89 Corolla GT-S AE92 bigport, +0.5mm overbore
Camshafts: Web-Cam #577 in and ex.
Cam Pulleys: Homebuilt adjustable (thanks to Stan Lee)
Exhaust: Semi-homebuilt header adapted from 7A-FE header
Intake manifold: 1990+ 4A-GE 16V smallport and adapter plate (to fit bigport head)
Fuel injectors: 365cc 4A-GZE
ECU: MegaSquirt MS1/Extra
Ignition: Ford EDIS coil pack and crank trigger, coil pack driven directly from MS
Next revision to include:
Yamaha R1 individual throttle bodies
Crower 61824-2 Camshafts
C160 six speed transmission
Chromoly flywheel
Miscellaneous other weird crud…